Today we started an in-class project by creating conservation posters about the global water crisis. Thank you to those who brought in extra poster board, you guys are great!! You were assigned a country that is being effected by this crisis drastically! Make sure you refer to your rubric about what information needs to be on your poster so you can turn it in on MONDAY.

HW: None, make sure you do not have any missing work!
Unit 4 Test is scheduled for WEDNESDAY along with the folder being due.

Powered by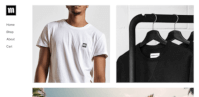 Create your own unique website with customizable templates.